-
11:00am-4:00pm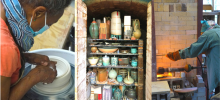 Description
"The pottery program is a haven for individual creativity," says director Jeff Kirk. As artistic director – and as a resident artist and instructor as well – his goal is to foster the spirit that enables students to give shape and meaning to their unique visions.
Housed in the Park's yurt structures, the program has nurtured the artistic talent of thousands of students for more than 40 years and produced many extraordinary potters and instructors. The spirit of the Pottery emanates from the respect for each individual's talents, needs, and expressions.
Each of the pottery's instructors and artists are uniquely inspired by their traditions, imaginations, dreams, relationships, and passions. The studio also fosters community and welcomes everyone from the tentative novice to the very experienced student, with opportunities to learn and participate in all aspects of the ceramic studio process.
Location: Pottery Yurts
Admission: FREE
Recommended Ages: All ages are welcome