CAROUSEL 100th ANNIVERSARY
Dentzel Carousel at Glen Echo Park  | 1921 - 2021
Join in the birthday celebration! We have events and activities for the whole family - many virtual - to celebrate the 100th anniversary of our beloved carousel. See below for details, and continue to check this page as we add events and activities. 
Carousel History Video (approx. 5 minutes)  |  Carousel Fact Sheet    | Carousel through the Years Photo Gallery/Video (approx. 5 minutes)  |  William Dentzel III Video (approx. 3 minutes)  |  Carousel Page
---
---

Carousel Turns 100! Campaign 
Show your support for our beloved carousel with a contribution at any level to help us celebrate the Carousel 100th Anniversary and ensure that area residents and tourists can delight in the carousel's beautifully restored menagerie of animals for another 100 years! Thank You!
---

Social Media Contests 
Each month from March through September, we will post a historic photo of the carousel on social media, and we invite our followers to guess the year the photo was taken. First person to guess the correct year wins our small Carousel 100th Anniversary logo tote bag. The first photo -- for our March contest -- will be posted during final week of March.
More contests to come, including vote for the all-time favorite carousel animal! (March & April)
---

Carousel 100th Anniversary Logo Merchandise
We've got T-shirts and tote bags, plus signed posters! And there's more to come! Logo items feature an original serigraph by local artist and printmaker Joseph Craig English. It's all on our Online Art Market.
You may also purchase the book, Restoring the Glen Echo Park Carousel by Deborah Lange on our Online Art Market here.
---
UPCOMING EVENTS & ACTIVITIES

Carousel Lecture #2
Glen Echo's Two Great Carousels: Coney Island versus Philadelphia Style by Barbara Fahs Charles
April 14, 2021 |  7:30pm
Throughout the Carousel 100th Anniversary Celebration, we will present four virtual lectures. Each lecture will feature a different topic related to the carousel.
Lecture #2 in the series will be presented by Barbara Fahs Charles on April 14, 2021. In her lecture, titled "Glen Echo's Two Great Carousels: Coney Island versus Philadelphia Style," she will discuss the history and style of the two carousels that have been part of Glen Echo Park. 
---

Carousel Story Time
As part of our Carousel 100th Anniversary celebration, we hope you and your little ones will join us each month from April through September for Carousel Story Time on Saturday mornings. We will present six stories that feature wonderful tales of carousels. Carousel Story Time is presented in collaboration with the Puppet Co.
First story time will be on April 24. Full schedule & more details coming soon! 
---
Ribbon-Cutting Ceremony
Saturday, May 1, 2021  |  10:30 a.m.
Join us to mark the opening of Glen Echo Park's Dentzel carousel for its 100th Anniversary season! We will stream live from the carousel with government officials and other dignitaries to celebrate a local icon that has been a treasured part of the Park and the community for a century. The event includes a ceremonial first ride. Watch live here on our website! 
If COVID-19 restrictions allow, the carousel will open for the season with social-distancing guidelines in place and timed-entry tickets: $5/person for unlimited rides during a 2-hour time period. 
---

Carousel Family Days
If COVID-19 guidelines will allow it, throughout the summer we will present in-person (socially distanced) carousel-themed family activities that will include hands-on art projects and more! Check back later to learn more and find out the dates.
---
More Carousel 100th Anniversary Activities!
Glen Echo Park Carousel History Interpretive Brochure (Late Spring)
End of Season Celebration (September)
---
PAST EVENTS & ACTIVITIES
LIVE Carousel 100th Anniversary Launch Event! 
[ NOTE: The recording above includes a 10-minute countdown to the start of the event. You can forward to the beginning or enjoy the musical interlude! ] 
Watch to see all the exciting activities and events we've planned for the months-long Carousel 100th Anniversary celebration.
From the carousel building, Emcee Liz Dapo from the Puppet Co. and her sidekick Penny, as well as Glen Echo Park Partnership Executive Director Katey Boerner and Partnership Board President Bonnie Casper will tell us what events are coming up. We will also have special messages from Senator Chris VanHollen, Congressman Jamie Raskin, Maryland Delegate Marc Korman, Montgomery County Councilmember Andrew Friedson, and other special guests!
You will hear about what we have planned from February through September to celebrate our beloved carousel's 100th birthday! Including virtual lectures on the history and restoration of the carousel, summer family weekend activities, social media contests, carousel anniversary merchandise, a fundraising campaign, and the premieres of three short films that will feature personal stories reflecting the unique and enduring role the carousel has played in the community for a century.
---

Carousel Lecture #1
In honor of Black History Month, our first lecture on February 24 will feature Ilana Trachtman, producer of an upcoming documentary about the Civil Rights story of the Glen Echo Park carousel called Ain't No Back to a Merry-Go-Round.
"In 1960, three years before the March on Washington, a group of radicalized Howard University students climbed aboard the backs of gilded horses on Glen Echo Amusement Park's Dentzel carousel. Since the turn of the century, Glen Echo Amusement Park had been the DC metro area's premiere recreation destination, it's advertising jingle the soundtrack to summer. But the park was whites only, and the Black students were arrested. This sit-in on the carousel set off nine weeks pickets and arrests, most remarkable because the Howard students were immediately joined by a neighboring white community of union organizers and progressive civil servants. Never before had a white community collaborated with a Black student group, and never before had the American Nazi Party counter-protested publicly. This unknown story and its ramifications is the subject of Emmy Award winning filmmaker Ilana Trachtman's documentary-in-progress, Ain't No Back to a Merry-Go-Round. Join us as Ilana introduces us to a few of the remarkable, "ordinary" individuals who stood up to injustice the summer of 1960, encountering the "other" for the very first time and also discovering the impulse to activism inside themselves. Ilana will share scenes from the film in progress, discuss the relevance of this unprecedented collaboration, and invite questions."
---

Carousel Virtual Tour with NPS Ranger 
We know you miss the carousel as much as we do! Join us for a behind-the-scenes tour of the carousel with NPS Ranger Kevin Patti. Learn about carousel history and fun facts about the carousel and Wurlitzer band organ. 
---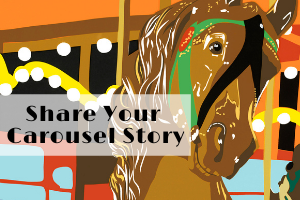 Share Your Carousel Story! 
Our months-long celebration of the Carousel 100th Anniversary will include the premieres of three short videos that will feature personal stories reflecting the unique and enduring role the carousel has played in the community for a century. In a joint project with Story Tapestries, a nonprofit arts service organization that specializes in empowering people's voices through digital storytelling and other art forms, we are collecting information from the public throughout the month of February. (Deadline extended! Submissions will be taken through March 31!) 
We have heard countless stories over many decades from carousel riders of all ages, and now we would like to collect and record these memories – these pieces of history – to preserve them for decades to come. We know there are generations of park-goers who have ridden the carousel with their families and friends – stories of World War II, civil rights protests, the turbulent 1960s, and the fifty years since the Park became a National Park Service property and an arts and cultural center – and we invite everyone to share their memories with us.
While only a handful of the stories collected will end up in the videos, many of the stories will be shared in other ways throughout the carousel celebration, and all the stories will be preserved.
SUBMISSIONS FOR THE CAROUSEL STORIES PROJECT HAVE CLOSED
We will premiere three short videos that feature a handful of these unique carousel stories in June, July, and August. Watch for dates and links to watch coming in May.
---
Heritage Award Winner!
On January 13, Maryland Traditions, the traditional arts program of Maryland State Arts Council, announced the winners of its 2021 Heritage Awards, which recognize long-term achievement in the traditional arts. Three Heritage Awards are given annually: one each in the categories of Person or People, Place, and Tradition
We were thrilled to be recognized with the award in the "Place" category for our historic Dentzel carousel.
---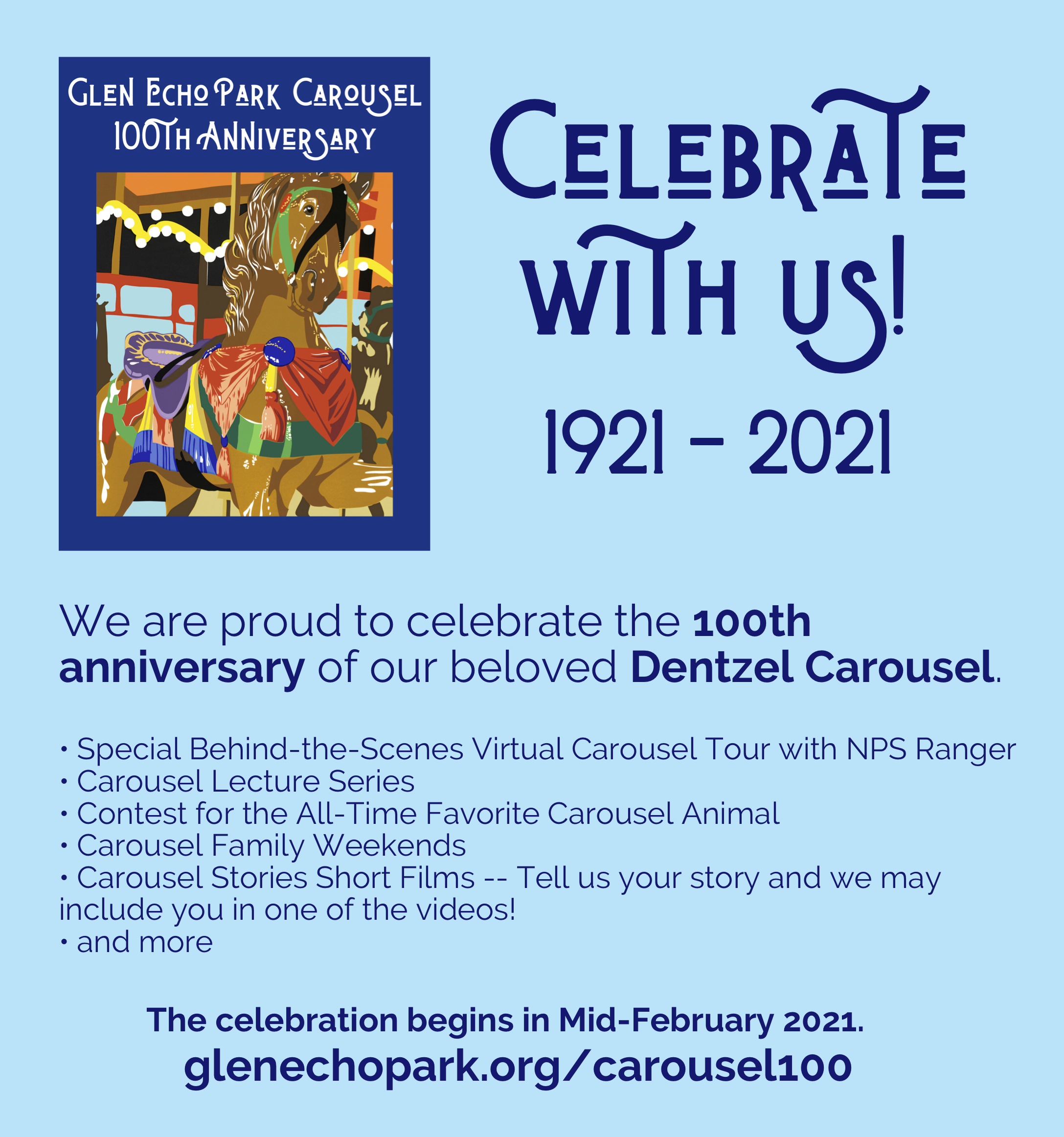 Carousel 100th Anniversary logo artwork: Original Serigraph by Joseph Craig English
---
Thank you to our Sponsors!
Carol Trawick
This project has been financed in part with State Funds from the Maryland Heritage Areas Authority, an instrumentality of the State of Maryland. However, the contents and opinions do not necessarily reflect the views or policies of the Maryland Heritage Areas Authority.
This project has been financed in part with funds from Heritage Montgomery and Montgomery County Government.