CAROUSEL STORIES ORAL HISTORY PROJECT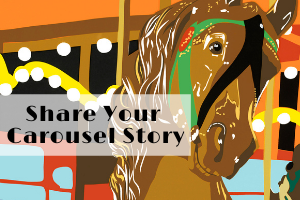 Share Your Carousel Story! 
Our months-long celebration of the Carousel 100th Anniversary will include the premieres of three short videos that will feature personal stories reflecting the unique and enduring role the carousel has played in the community for a century. In a joint project with Story Tapestries, a nonprofit arts service organization that specializes in empowering people's voices through digital storytelling and other art forms, we are collecting information from the public throughout the month of February. (Deadline extended! Submissions will be taken through March 31!) 
We have heard countless stories over many decades from carousel riders of all ages, and now we would like to collect and record these memories – these pieces of history – to preserve them for decades to come. We know there are generations of park-goers who have ridden the carousel with their families and friends – stories of World War II, civil rights protests, the turbulent 1960s, and the fifty years since the Park became a National Park Service property and an arts and cultural center – and we invite everyone to share their memories with us.
While only a handful of the stories collected will end up in the videos, many of the stories will be shared in other ways throughout the carousel celebration, and all the stories will be preserved.
SUBMISSIONS FOR THE CAROUSEL STORIES PROJECT HAVE CLOSED
We will premiere three short videos that feature a some of these unique carousel stories in June, July, and August. Check back for dates and links to watch coming in early June.