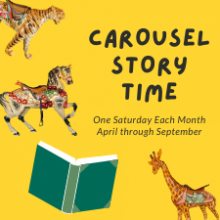 Description
Join us as we read A Carousel Tale by Elisa Kleven.
Ernst loves the carousel near his house, and his favorite carousel animal is the dog. When the dog's wooden tail comes loose just before winter, Ernst is given the important job of keeping it safe until springtime. But the tail looks sad sitting on Ernst's shelf without its dog, and Ernst can't help but try to cheer it up. It isn't long before he has transformed the lonely tail into something wonderful. As spring approaches, Ernst wonders if he will have to give up his special creation. And if he doesn't, what will the poor dog have to wag? The imaginative crocodile from Ernst and The Puddle Pail shines once again in a story that children will treasure.
RSVP preferred, not required. 
Presenter: Glen Echo Park Partnership for Arts & Culture
Location: Online
Admission: FREE
Recommended Ages: All ages welcome
Phone: 301-634-2222