10:00am Showtime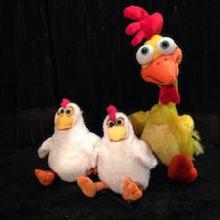 Description
Penny Russell is one of the Puppet Co.'s favorite Teaching Artists and we're so glad to share her The Three Billy Goats Gruff with you! Join Billy, Nan and the Kid as they find their way across the water to eat the sweet, green grass in this interactive, musical retelling of the classic folk tale.
Penny Russell (she/hers) is a Puppeteer, Musician, and Teaching Artist based in Prince George's County, MD. She is a Master Teaching Artist with Wolf Trap Institute for Early Learning Through the Arts; and teaches Music, Drama, Puppetry, and Self-Advocacy through the Arts to children and adults on the autism spectrum for ArtStream. Penny studied Folklore and Mythology at the University of Maryland, College Park where she received degrees in Sociology and English. She has performed for Wolf Trap, The Kennedy Center, Adventure Theater, The Puppet Company, and the National Theater among others; and has presented workshops for the National Science Teachers Convention, Virginia STEM and Library Conference, Wolf Trap, The Kennedy Center, The Actor's Center, and schools across the country. Penny volunteers in her community [Warm Nights, Community Café, Yard Dramas] and beyond [International Guest House, The Iona Community, Mt Harmony Drama]; and was an original cast member of "Am I Welcome?", an LGBT+ puppet show about inclusion. She loves connecting and communicating through the arts; and believes that the arts are for everyone.

Come see Tree Songs, always at 10am!
Wednesday, November 9th
Wednesday, November 23rd
Sunday, November 27th
Presenter: the Puppet Co.
Location: the Puppet Co. Playhouse
Admission: $8 per person (under 2 y.o. free)
Recommended Ages: 2 y.o. and up
Phone: 301.634.5380