10:30am Showtime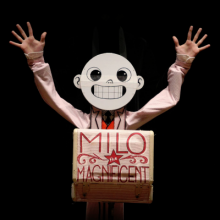 Description
The Jim Henson Foundation Grant awarded "Milo the Magnificent" is a highly engaging puppet show about an aspiring magician. This wordless comedy, inspired by turn of the century vaudeville entertainers, is as highly physical as it is charming. Using stunningly innovative puppetry, Milo presents a variety of magic tricks which don't always go as planned. Great for all ages! Recommended ages 4+. Run time approximately 60 minutes.
September 1, 2022 -September 30, 2022
Thursdays and Fridays at 10:30am 
Saturdays and Sundays at 11:30am and 1pm
September 18 at 11:30am will be sensory friendly.*
September 10 and September 24 at 11:30am will be additionally socially distanced.*
 
Presenter: the Puppet Co.
Location: the Puppet Co. Playhouse
Admission: $15 per person (under 2 y.o. free)
Recommended Ages: 4 y.o. and up
Phone: 301.634.5380