10:30am Showtime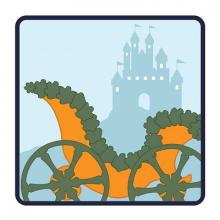 Description
Rod puppets convey the classic tale of rags to riches, love at first sight (twice!), and getting what we all deserve. Don't miss this fan favorite production, or your magical midnight curfew! Recommended ages 5+. Run time approximately 45 minutes.
Running July 21 - August 28, 2022 with Weekly Showtimes:
Thursdays and Fridays at 10:30am 
Saturdays and Sundays at 11:30am and 1:00pm
Special Performance Dates:
August 7th, 11:30 am show will be Sensory Friendly.
August 21st, 11:30am show will have ASL interpretation.
July 30th and August 13th at 11:30am will be additionally socially distanced.
Presenter: the Puppet Co.
Location: the Puppet Co. Playhouse
Admission: $15 per person (under 2 y.o. free)
Recommended Ages: 5 y.o. and up
Phone: 301.634.5380