1:00 pm - 4:00 pm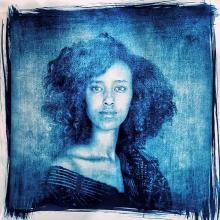 Description
Timeless: Historic Photographic Processes in the Digital Age (July 8 - August 14, 2022)
Featuring Rodrigo Barrera-Sagastume, Paige Billin-Frye, Mac Cosgrove-Davies, Scott Davis, Sebastian Hesse-Kastein, William Shelton, and Redeat Wondemu.
Opening Reception - Friday, July 8, 6pm. Gallery Hours: Sat & Sun, 1 - 4 pm
Zoom Artist Talk - Sunday, July 10, 7-8pm
For those unable to attend the opening, this is an opportunity to hear from and interact with the artists.  Learn about the artists and their vision, their chosen photographic processes and related classes offered at Photoworks. Join via zoom: https://us02web.zoom.us/j/89339509800
​
​Champagne and Platinum - Friday, July 22, 7-10pm at Photoworks 
Spend a delightful evening with the Alt-Photo crowd in the Photoworks Gallery sipping bubbly and watching a live demo of the platinum printing process.  Platinum printing allows delicate rendering of image detail with an astonishing tonal range and legendary permanence.
​Wet Plate Demonstration - Saturday, July 23, 11am-2pm at Glen Echo Park
This is a live demonstration of the photographic process that was dominant from the 1850s-70s (i.e. during the US Civil War).  The photographer must sensitize, expose, and develop the plate in a matter of minutes, using a portable darkroom.  Results are available immediately.
Sun Printing - Saturday, July 30, 11am-2pm
A family friendly fun-for-all where everyone makes cyanotype shadowgrams.  This is an excellent introduction to cyanotype process.  Cyanotype is the simplest historic photographic process to learn.  It also can deliver extraordinary creative expression. 
Presenter: Photoworks
Location: Photoworks
Admission: FREE
Recommended Ages: All ages welcome
Phone: 301-634-2274