10:00 am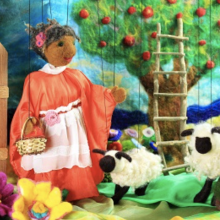 Description
We're so happy to be introducing Beech Tree Puppets to our Tiny Tots audience, now performing The Apple Tree! In this marionette show, a woman lives in the countryside with her lively dog, her shy cat and her cuddly sheep. She decides to plant an apple tree so she can make a pie for her birthday. She is surprised by an unexpected little helper. Warm colors and beautiful singing bring special magic to this 30-min. show The Apple Tree teaches about life cycle of the tree, farm animals and plants, butterflies, change of night and day, music and visual arts and contains themes of self-reliance, community, and helping.
All Tiny Tots shows feature:
30 min. runtime
no dark room
no loud noises
open theatre doors
Presenter: the Puppet Co.
Location: the Puppet Co. Playhouse
Admission: $8 per person (under 2 y.o. free)
Recommended Ages: 2 years and up
Phone: 301.634.5380