Thurs & Fri Showtimes: 10:30am 
Sat & Sun Showtimes: 11:30am and 1pm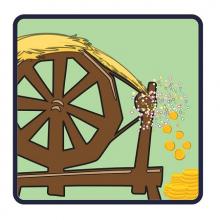 Description
In a brand new production, the Puppet Co. gives you the full story of what happens after the gold has been spun and the day has been saved. This hilarious and smart comedy will be a great romp for adults and kids alike. Can you guess Rumpelstiltskin's new name?! Recommended ages 4+. Run time approximately 50 minutes.
The Fantastic Tale of Rumpelstiltskin runs March 31, 2022 - May 22, 2022.
Thursdays and Fridays at 10:30am (Group sales only. Must book through Box Office.)
Saturdays and Sundays at 11:30am and 1pm
ASL interpretation date to be announced soon.
Presenter: the Puppet Co.
Location: the Puppet Co. Playhouse
Admission: $15 per person (under 2 y.o. free)
Recommended Ages: 4 y.o. and up
Phone: 301.634.5380