CAMPS FOR CHILDREN & TEENS
At Glen Echo Park, WE ARE HAPPY CAMPERS! We offer camps for children & teens in visual arts, music, theater, and nature & aquatic life. We present day camps all summer long, as well as several spring break and winter break camps. We're looking forward to welcoming you back to the Park for a safe and fun summer. 
---
Summer Camp 2022 Dates: June 20 – August 26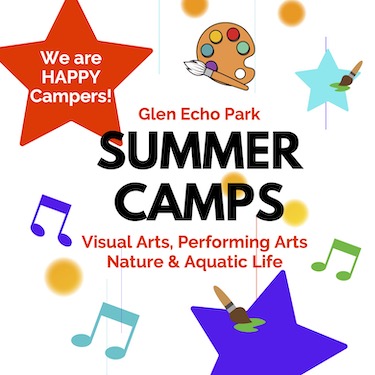 Most camps run from 9am – 3pm.  |  Ages 5-17. (A few camps start at age 4.)
Camps may require campers ages 5 and up to be vaccinated against Covid-19, or have recent negative Covid-19 test, or a medical or religious exemption. Please contact the instructor for details before enrolling.
After Camp:  
After Camp is available and runs from 3pm – 6pm. Proof of vaccination is required, and spots are limited. No drop-ins; campers must be registered for the full week. 
JULY SALE: 20% OFF AFTER CAMP SESSIONS JULY 5 - 29
VIEW/DOWNLOAD THE CAMPS-AT-A-GLANCE SCHEDULE
VIEW/DOWNLOAD THE FULL CAMP BROCHURE
BROWSE THE FULL SPRING/SUMMER CATALOG
CAMP REGISTRATION QUICK LINKS:   All Camps | Arts & Crafts Camps | Irish Dance Camps | Puppetry Camps | Photography Camps | Music Camps  |  After Camp | After Camp for Adventure Theatre | Spring Break Camps
---
Health & Safety
Here at Glen Echo Park, we take the health and safety of all participants very seriously and aim to present fun, creative, and safe options for summer.
There is no uniform policy for vaccination across all camps, though masks are required indoors. Please check the camp description on our online registration system to view your child's camp. You may also contact the individual camp instructor for specific information about your child's camp. General questions? email kcuthbert@glenchopark.org
These are some of our new camp safety procedures: 
You must complete the mandatory Self-Health Checker, which is sent on Friday prior to the Monday start of each week of camp throughout the summer.
Masks are required indoors for campers, instructors, and staff.
Depending on the camp, pick-up is either at 2pm (Clay Animation) or 3pm. Please do not be late for pick-up. Minimum $50 fee for any late pick up.
Parents/Guardians may not enter the classroom; we will aim to limit the number of people who enter the classroom. Preferred drop off and pick up will be outside the classroom/studio door.
---
Due to COVID-19, Summer 2020 Camps were virtual!